WE'VE GOT THE SECRET TO A CLEAN PROTECTED MATTRESS
Meet the Ultimate Waterproof Encased Mattress Protector
Enjoy a worry free sleep with our fully waterproof mattress protector by Pillow Pod. Sleep in pure comfort whilst protecting your mattress from irreparable stains and protecting yourself from allergens, bed bugs and dust mites.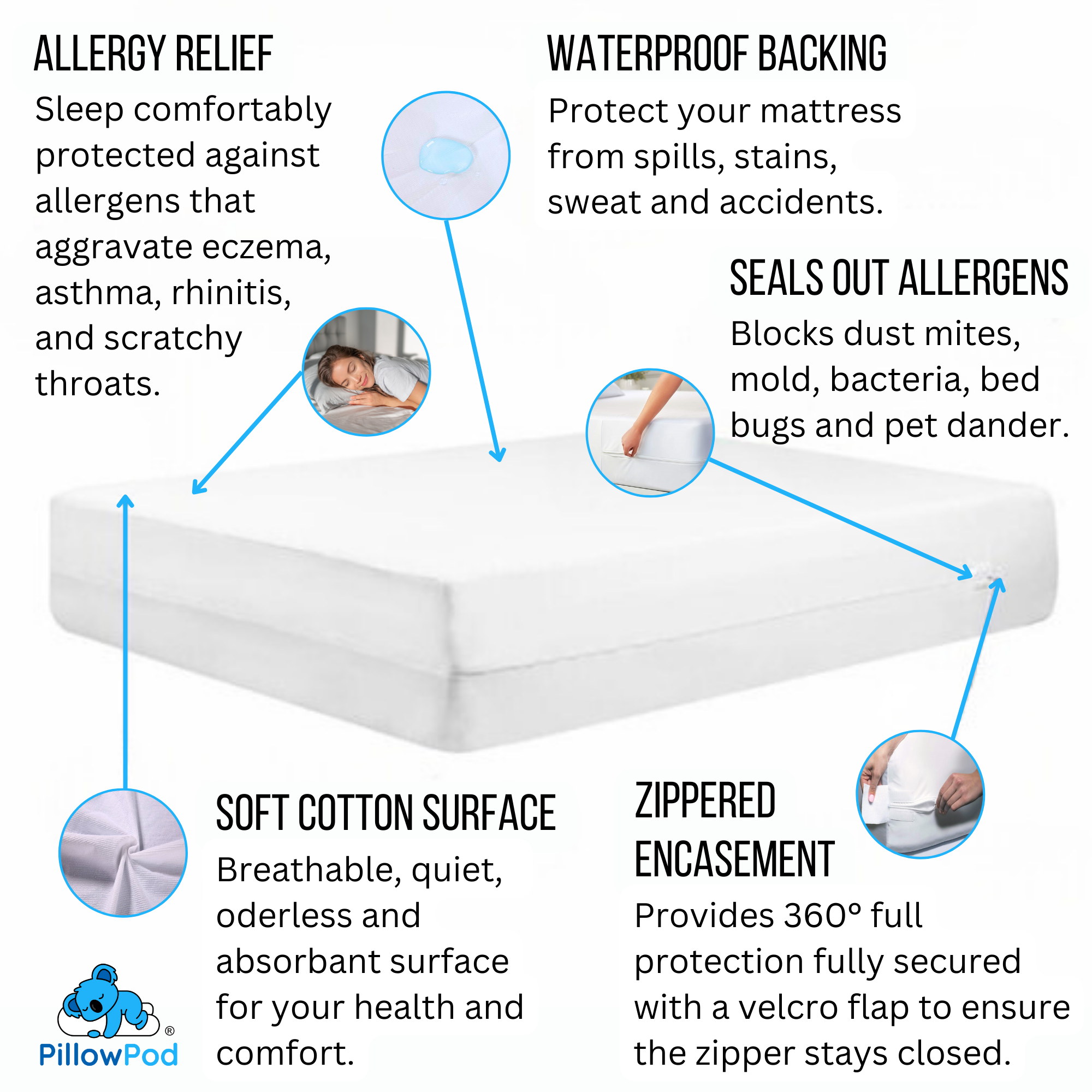 Sleep without the anxiety of incontinence or accidently spilling something on your mattress. After all our mattress protector is machine washable... unlike your mattress!
We spend one-third of our lives in bed, yet thousands of people STILL risk their expensive mattresses becoming damaged by liquids and stains. What if we told you that you can no longer worry about ruining your mattress overnight!
With a thoroughly tested design, we have figured out how to create the quietest and most comfortable mattress encasement that will ensure you are sleeping soundly knowing you and your mattress are protected for many years to come.
This Fully Encased Mattress Protector by Pillow Pod comes in 10 different sizes to suit all bed types. It is made from the softest cotton and a quiet waterproof layer that protects you from all the nasties, so you can sleep well knowing you are protected.
As the Fully Encased Mattress Protector is designed to help people have a safer sleep free from allergens, you are playing a part towards increasing your wellbeing and happiness by solving your sleeping problems and safeguarding your health.
💬 "My mattress was not cheap and I want it to last, and I don't want to breathe in dust all night so this is perfect. This protector solves all the problems without noise every time you move" - Leanne ⭐️⭐️⭐️⭐️⭐️
💬 "I became allergic to dust mites 6 months ago and before this I wasted so much money on doctors and medicine, nothing worked, NOTHING… I got this and had my partner help me put it on and this is the first night I have felt better and not had to get up in the middle of the night. Don't hesitate to get this, you will be grateful." - Nicole ⭐️⭐️⭐️⭐️⭐️
You too can protect yourself against allergens with the Fully Encased Mattress Protector. Even for those who are not allergic to dust mites, dust mites can impact your health as you are breathing in decomposing dust mite bodies or faecal matter. Not addressing this problem at the source can leave those impurities circulating through your home, causing the air inside your home to become increasingly polluted.
Designed for you
Our Difference
The Fully Encased Mattress Protector is made of high-quality ultra-soft cotton and a quiet waterproof layer that is durable and protects ALL sides of your mattress so you will not have to buy and replace it as often as traditional mattress protectors.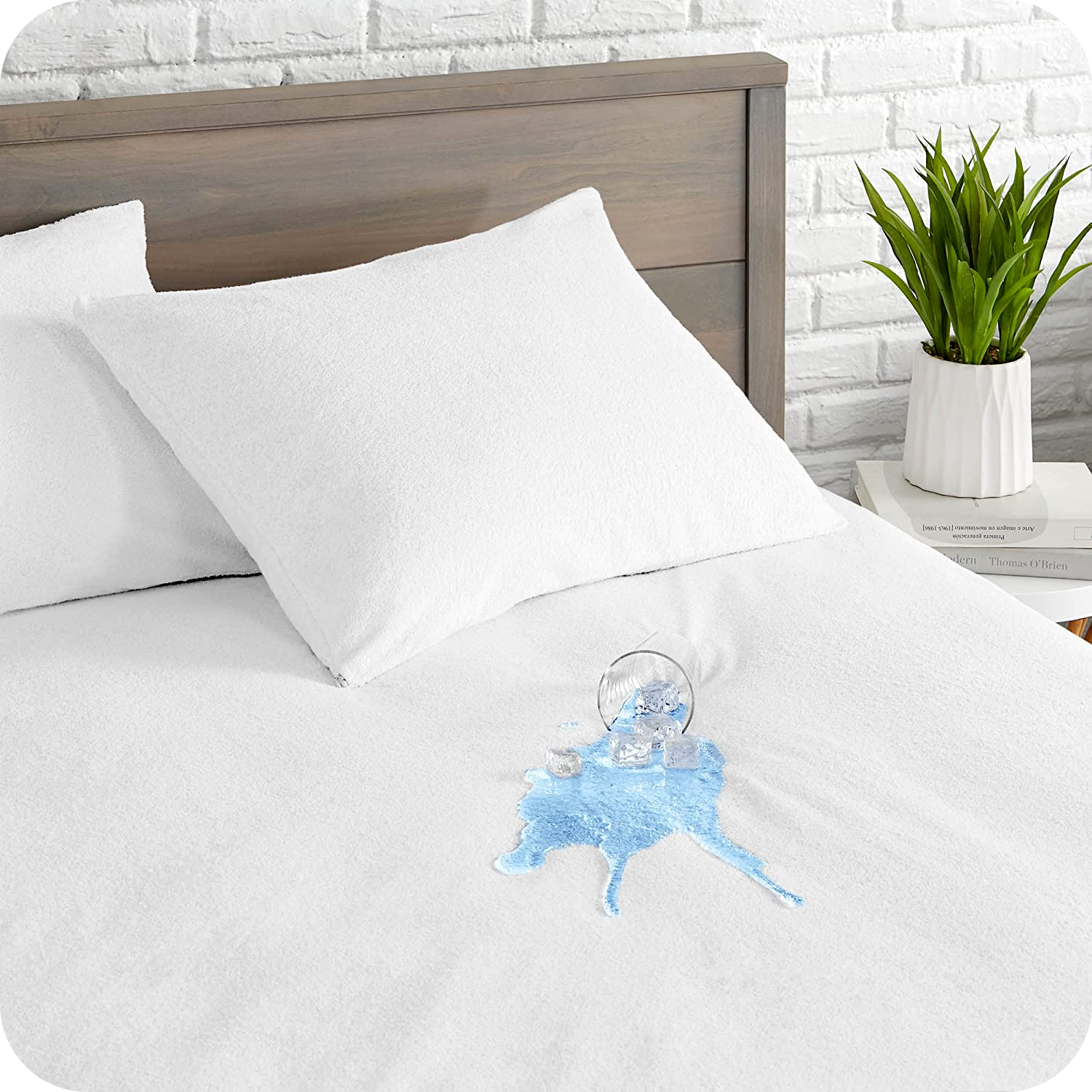 The Fully Encased Mattress Protector is designed to take the hassle out of bed wetting, incontinence problems, spills and stains! So you no longer are burdened with sleepless nights haphazardly cleaning your families mattresses. With the Fully Encased Mattress Protector you can now strip the bed and get back to sleep quickly knowing your mattress is safe.
💬 "Perfect for my son's bed, it makes things so much easier when there is an accident to deal with. It stays in place and doesn't slip around because it fully covers the mattress, and we have not experienced any leakage and the cotton is super absorbent making cleanup easy. Best purchase ever" - Shay ⭐️⭐️⭐️⭐️⭐️
💬 "I got this because my dog usually sleeps with me and I got a new mattress. Now I'm okay with them getting in bed as I don't have to worry about their shedding or accidents on my mattress" - Lee ⭐️⭐️⭐️⭐️⭐️
💬 "I had monthly female problems unexpectedly and when I stripped the bed at 2am, the mattress was amazingly still as good as new. I am so grateful that the mattress was saved" - Kerrie ⭐️⭐️⭐️⭐️⭐️
It's a good idea to have two – one on the bed and one on standby – so you're never caught out. Even better, they're a breeze to wash: Simply throw them in the washing machine and then in the dryer or on the line.
Measure the Width x Height x Depth of your mattress and compare it to the sizes offered in the drop down menu above! Our Fully Encased Mattress Protectors have some stretch so they have a 5cm leeway each way.
NO! The Fully Encased Mattress Protectors cannot safely be used under electric blankets. Electric blankets will melt the waterproof layer of the encasement.
Yes, the Fully Encased Mattress Protectors are latex free so those with latex sensitivity can use them without a worry.
Best Mattress Protector for Dustmite Allergies and Eczema | Co-Founder Story
Our co-founder's personal story attests to the transformative power of this Fully Encased Mattress Protector, offering you a chance at an allergen-free sleep. Your skin will thank you.
CLICK HERE TO READ MORE